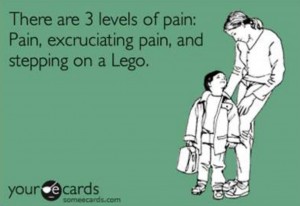 We here at Simplify aren't just organizing experts, we're parents too. We also have to deal with our kids and their toys and can certainly relate! Legos provide hours of entertainment for children (and parents too), but one stray brick can bring pain that will make you head for your Kragle (sorry to those who have not seen The Lego Movie 300 times).
There are lots of organizational tools available for the momentous task of Lego organizing – the challenge is to find out what works best for your child. Before buying a new storage system and force-fitting it, try observing your child at play and find out how he/she uses her Legos. Does she build with a certain plan in mind in which she needs very specific pieces, or does she just get inspired to create with whatever is in front of her? Does she build items that are color specific, or is color not an integral part of the overall design?
After one of our organizers, Holly, tried several different techniques to corral Legos in her own home, she decided to observe her son at play and quickly realized that "He is a 'digger' – he likes pushing his way through the mass of accumulated Legos (that could have paid for part of his college tuition . . . sigh) and find pieces that seem to go together. For him, having an intricate sorting system is overkill – he just needs a big vat to hold everything. And since he prefers to build in his room, an under-bed bin with a lid was the perfect solution."
Note that the bin shown above is long and shallow, so it's easy to push through pieces and see what's there. When Holly tried taller bins, like those that fit on a typical book case, they were too deep and her son wound-up emptying everything on the floor and sorting through it there. NOT the sight that mama wants to see (or step on) when tidying up the room. So this solution went perfectly. Moral of the story? Know when "not" to organize.
On the flip side, Amy (Simplify's CEO) interviewed her son about the various organizing options and he was psyched at the idea that his Legos could be grouped by type. "He hates digging. He says he's 'kind of like an architect.' He creates something in his head, then knows exactly what pieces he needs. He wants it, and he wants it fast… without a search. Having specific pieces at his fingertips has made him into quite a Master Builder and he plays with his Legos for longer stretches turning out more intricate structures than before we set-up his organized categories." This comes with a price however: you have to put stuff back into those very specific groupings. If your child is not willing to do this, or you are not willing to help, consider something in between a "Digger" and an "Architect." For example, maybe you sort the Legos, but you have fewer, broader categories, or maybe you just sort by color if that's an important Lego feature to your son or daughter.
If you are planning to sort at all, you have a host of options that can help you, depending on the quantity of bricks and the space you have available. Here are some ideas:
Of course, you can customize your own organizing solutions. Just keep in mind how your child plays, and this will help you to design your system.
One last thing to consider for Legos: what do you do with those completed sets, the ones that Janie or Johnny put together, but does not want to disassemble yet? Carve out some display space for those prized works of art so they can be enjoyed for the short or long term. Consider the top tiers of her book case, the empty space atop his dresser, or even the shelf at the top of the clothes closet – all qualify as display areas for creations that need to stay a while.
No matter your child's type, or what organizational system you decide to use… it's building with LEGO, you can't go wrong because "Everything is awesome!!"